Join the REMS TA Center Community of Practice


With more than 200 members from across the country, the new Community of Practice (CoP) is a virtual space for those working in and affected by the field of emergency management for schools and institutions of higher education (IHEs). Joining the growing community is easy.

Visit http://rems.ed.gov/COP/Default.aspx and then click Join at the bottom of the page. After joining, you will be prompted through the steps to create a profile and accept the community rules.
CoP Spotlight: Share Your High-Quality Emergency Operations Plan (EOP) With Colleagues
Are you particularly proud of your school's Lockdown Annex, Concept of Operations section, or another part of your school EOP? Does some aspect of your plan serve as a model to other schools in your district or state? Or, are you new to school emergency management planning and want to see high-quality examples of plan sections produced by your colleagues? If so, the REMS TA Center invites you to join the CoP to exchange your best plan sections with your colleagues and to participate in discussions on state and local coordination, how to address infectious disease, and a variety of other topics. You can also start a new thread!

If you have any questions or issues accessing the CoP, please contact the TA Center at info@remstacenter.org.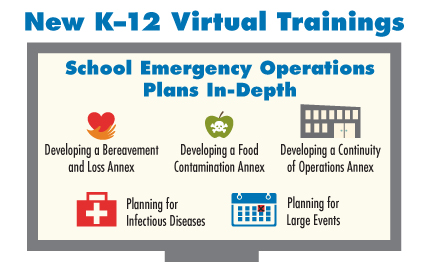 NEW Online Courses Available for K–12 Schools and School Districts
Five new online courses for practitioners in the field of K–12 school emergency management are now available on our Website. These trainings are part of the "School EOPs In-Depth" series, which provide detailed information on specific topics in school emergency management, including the following:
Developing a Bereavement and Loss Annex
Developing a COOP Annex
Developing a Food Contamination Annex
Planning for Infectious Diseases
Planning for Large Events
To take a course, visit the TA Center Website, click the Technical Assistance tab in the top navigation bar, and then select Virtual Trainings. You can also visit http://rems.ed.gov/trainings/CoursesHome.aspx. Once visiting the landing page, you will need to create an account to register.

NEW EOP EVALUATE Tool Available on EOP Interactive Tools Page

EOP EVALUATE is an HTML-based tool designed by the TA Center to help schools and IHEs evaluate an established EOP, using the School Guide and IHE Guide as a foundation. Tool users are prompted through the six-step planning process recommended in the Guides to determine whether there are areas where an existing EOP can be improved. To start evaluating your existing EOP against Federal recommendations in emergency management planning, visit the TA Center Website at http://rems.ed.gov/EOPinteractivetools.aspx.
You can also learn about EOP ASSIST, a Web-based application for school districts, which will be launched this month!

Volume 5 of REMSExpress Now Available
The most recent issues of REMSExpress, a publication series prepared by the TA Center and Office of Safe and Healthy Students in collaboration with practitioners in the fields of school and higher ed emergency management, is now available on our Website. Find a list of the Volume 5 issue titles below:
Issue 1: Principles for Creating a High-Quality Higher Ed Emergency Operations Plan
Issue 2: Principles for Creating a High-Quality School Emergency Operations Plan
Issue 3: Six Step Planning Process for Institutions of Higher Education
Issue 4: K–12 Six Step Planning Process
Issue 5: Maximizing Student Participation in the Higher Education EOP Planning Process
Issue 6: Implementing Recommendations From the Guide for Developing High-Quality School Emergency Operations Plans—A Practitioner's Perspective From the Orange County Department of Education
To view all issues, visit: http://rems.ed.gov/REMSExpress.aspx.

Upcoming Webinar and Web Chat
Wednesday, January 21, 2015 @ 2:00 p.m. EST—Integrating Human Trafficking With School Emergency Operations Plans (EOPs) Webinar and Web Chat. Learn how to participate here.
Archived Webinars and Web Chats
Quick Links