News & Updates From the REMS TA Center, Spring 2016

Testing, Testing 1, 2, 3:
Assess Your Knowledge of Key Concepts in Emergency Management

The six-step planning process is cyclical, which means that it's always a good time to brush up on your knowledge of advanced topics in school and higher education emergency management. Let us help you! Use your knowledge and expertise in emergency management to answer questions you will find throughout this newsletter. Clues are provided if you need help. And you can hone your understanding of these principles anytime using EOP ASSESS, a tool that helps practitioners from schools and institutions of higher education to assess their knowledge of elements critical to the process of creating and maintaining a high-quality emergency operations plan. You will even walk away with a free report at the end to help your learning continue!
---
Responding to Climatic Changes That Come With Spring—Safety and Preparedness Planning for Institutions of Higher Education
According to the National Weather Service's (NWS) Climate Prediction Center, the start of spring brought with it a variety of natural hazards, including extreme heat in the southwest, heavy rains and severe weather in the southeast, and high winds plus below normal temperatures in the northeast.

To be prepared for a variety of severe weather hazards and unpredictable climate conditions, institutions of higher education (IHEs) should follow the six-step planning process detailed in the Federal Guide for Developing High-Quality Emergency Operations Plans for Institutions of Higher Education (IHE Guide) and develop severe weather annexes. If they haven't done so already, higher education administrators and officials should meet with their core emergency operations plan (EOP) development planning team to assess the risks posed from the weather system that poses a threat. Region-specific information from NWS on the hazards outlook for the United States can be found here: http://www.cpc.ncep.noaa.gov/products/predictions/threats/threats.php
If a weather-related disaster is likely, IHEs should identify specific courses of action. These begin with first creating goals for each hazard and at least one objective for each goal, such as the following:
Possible Severe Weather Goal: Help ensure students and staff have a safe route to/from buildings on campus.
Possible Severe Weather Objective: Help ensure communication strategies are in place to notify students and staff of re-routed traffic in the case of flooded roads.
IHE core EOP development planning teams should also review and update hazard-specific annexes for severe weather events, such as extremely hot/cold weather and floods, if needed. Once courses of action have been updated and/or reviewed, the team should help ensure all stakeholders are aware of their roles and how to respond in an emergency.
For more helpful information on the development of threat- and hazard-specific annexes, visit the At a Glance version of the IHE Guide on the REMS TA Center Website at: http://rems.ed.gov/IHEThreatAndHazardAnnex.aspx.
Testing, Testing 1, 2, 3: Question #1
Name the mission areas that are included in Presidential Policy Directive (PPD)-8: National Preparedness by filling in the blanks.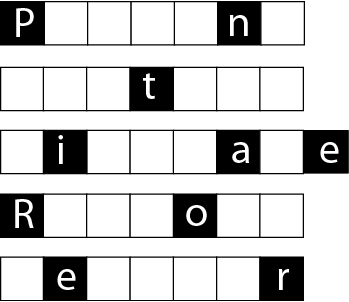 (Clue: Visit our home page to find the answer prominently displayed.)
---
Swatting Incidents Highlight the Importance of Collaboration on Local, State, and Federal Levels
Swatting occurs when a hoax or false report of danger is made to emergency service providers. The anonymous 9-1-1 call or email is made with the intention of soliciting a law enforcement response, usually by a SWAT (Special Weapons and Tactics) team. These threats can come in various forms, such as pre-recorded phone calls, emails, and messages posted on social media that mask the origin of the threat. Local and national news reports have taught us that many states, school districts, schools, and institutions of higher education (IHEs) have had to respond to swatting during this academic year in the form of bomb threats, reports of active shooters, and incidents of other serious human-caused threats.
Not only can swatting disrupt the learning environment, it can also result in wasted school, IHE, community, and/or state resources. Furthermore, it temporarily disables these resources for the community if a real threat were to occur at the same time. Swatting hurts the victims and the responders creating traumatic experiences for those involved in the heightened response. Although it is not a new phenomenon, swatting has caused new concerns, as encryption can make it difficult to track the source of the threat, and as threats made and publicized on social media can sometimes heighten the level of fear associated with an attack, thereby disrupting the response process. For example, sometimes reports on social media prompt parents to rush to a school to check on the safety of their children, which in turn can make it more difficult for first responders and administrators to do their job of ensuring safety and getting students back to school.
If nothing else, swatting reinforces the importance of collaboration on the Federal, state, and local levels. Schools and IHEs should work closely with their local law enforcement and others, such as parents/guardians, to identify not only how to respond to such incidents but also how to help prevent them from occurring in the first place. For example, superintendents, IHE administrators, state education departments, political leaders, and community partners across the country have been looking for solutions to the problem in town hall meetings and through working with the FBI to investigate sources of swatting. Also, Congresswoman Katherine Clark (D-MA) and Congressman Patrick Meehan (R-PA) introduced the Interstate Swatting Hoax Act of 2015, a bipartisan bill that aims to address dangerous examples of swatting. Collaboration can also include families. Together, schools and their partners can talk with students and teach them that swatting is not a prank—not only is it dangerous, but it is also a crime
Whether or not a threat is unfounded, districts, schools and IHEs must remain prepared to respond to all types of threats and hazards that may impact a school, campus, or surrounding community, including adversarial and human-caused threats like swatting. And leaders at those districts, schools, and IHEs must be prepared to work in a collaborative fashion with all those individuals and entities that can support them through the process of prevention, protection, mitigation, response, and recovery.
Testing, Testing 1, 2, 3: Question #2
In what section of an EOP should schools or IHEs include plans for continuity of learning and operations? (Clue: Find the answer within the guides for developing high-quality school and higher ed EOPs on our site.)
---
New Campaigns, Resource Releases, and Product Updates From the REMS TA Center
Celebrate America's PrepareAthon! With the U.S. Department of Education and the REMS TA Center
During the months of April and May, the REMS TA Center will be conducting weekly activities in support of the Federal Emergency Management Agency's America's PrepareAthon! (AP!) national campaign and National PrepareAthon! Day on April 30. Our goal is to highlight the work that you are doing on the state and local level to create, revise, and practice emergency operations plans (EOPs) and to help ensure that your state and local education agencies are prepared to respond to all hazards. Through these activities, we hope to hear and share success stories, lessons learned, and resources from our state, local, and Federal partners in school and higher education emergency management. Stay tuned for invitations to participate and/or present and share during the following AP! activities we will be hosting this month.

6 Twitter Web Chats on #SevereWx and Other Key Topics in Emergency Management
Week 1: Flood | Thursday, April 14, 2 PM
Week 2: Tornado | Thursday, April 21, 2 PM
Week 3: Our NEW Emergency Management Virtual Toolkit | Thursday, April 28, 2 PM
Week 4: Wildfire | Thursday, May 5, 2 PM
Week 5: Hurricane | Thursday, May 12, 2 PM
Week 6: Extreme Heat | Thursday, May 19, 2 PM
Follow us on Twitter @remstacenter to join the Twitter chats. We want to hear from you!
A Special #PrepareAthonForSchools Community of Practice Forum
The U.S. Department of Education, the REMS TA Center, and other Federal partners in emergency management want to know how you plan to practice your response plan for all hazards during AP! and year round. In the next newsletter, we will feature #PrepareAthonForSchools highlights from across the country. We hope your resource, story, or lesson learned is one of the ones shared!
To start sharing, use the following link to visit the CoP. This link will direct you to the forum. Once you're in, click New Topic and begin typing. http://rems.ed.gov/COP/REMSCOPforum/topics.aspx?ForumID=97
Testing, Testing 1, 2, 3: Question #3
What is the name of the national system that schools and IHEs can use to manage incidents in collaboration with community partners, such as emergency medical services personnel, law enforcement, and state emergency operation centers? (Clue: This information is very important and appears in multiple places on our Website, for both schools and IHEs.)
---
Share Your #MyPreparednessPromise With the Field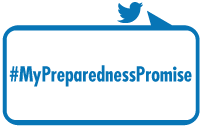 There are many actions that schools, IHEs, community partners, and individuals must take to help ensure that schools and campuses are safe and healthy learning environments. We understand if that responsibility may seem daunting, and we also understand the need to take time periodically to focus actions on one thing at a time.
The REMS TA center is kicking off 2016 with a new #MyPreparednessPromise national campaign to encourage you to share one thing you promise to do this year to promote and/or engage in emergency preparedness activities for schools or IHEs.
Interested in Participating? Learn How Below.
Download any one of the #MyPreparednessPromise banners available on our Creative Materials page.
Print a copy of the banner and write your promise in the blank space.
Share a picture of your completed banner or share a selfie holding the banner with the REMS TA Center via:

a. Social Media: Tag @remstacenter and add the #MyPreparednessPromise hashtag when you add your post.

b. Email: Send a copy of your promise to info@remstacenter.org under the subject line #MyPreparednessPromise.
You can also share your promise by visiting the TA Center exhibit booth at select emergency management conferences across the nation. To learn where we will be and when, see the last article in this newsletter.
---
Learning in Progress—Thanks for Your Patience While We Update Two Trainings by Request
The REMS TA Center has suspended delivery of our Adult Sexual Misconduct in Schools: Prevention and Management (ASM) and Threat Assessment in Schools: Basics and Benchmarks (SSI) Trainings by Request (TBRs) while we revise the content to integrate new research, Federal recommendations, and lessons learned in the field. In the meantime, we are still able to provide support and information on these topics; please email us at info@remstacenter.org with any questions related to these important subjects. You can also drop us a note to receive a notification when the revised training is available.
Please note that we are still offering several important TBR topics, including our Developing Emergency Operations Plans (EOPs) K-12 101, Developing Emergency Operations Plans (EOPs) IHE 101, and/or our Resilience Strategies for Educators: Techniques for Self-Care and Peer Support (RSE) TBRs. We offer all three trainings in Train-the-Educator and Train-the-Trainer formats. If you would like to learn more about these offerings, or apply to host a training yourself, find more information at http://rems.ed.gov/TA_TrainingsByRequest.aspx.
---
EOP ASSIST Interactive Workbook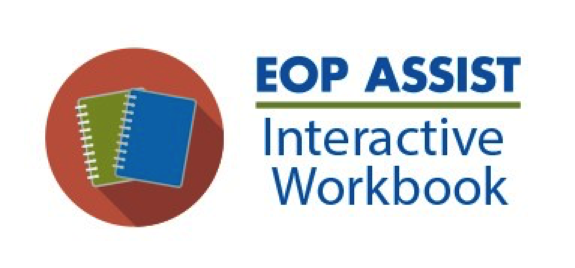 You gave us feedback, and we heard you! To accommodate more schools and districts with various technological capacities, the REMS TA Center developed the EOP ASSIST Interactive Workbook. The intended audience for the EOP ASSIST Interactive Workbook is K-12 schools and school districts interested in creating or revising school EOPs, but cannot or do not wish to download and install the EOP ASSIST 2.0 software application on a local server, or who simply prefer a paper-and-pen approach to creating an EOP.
Composed of Microsoft Word worksheets and Adobe PDF instructions, this offline tool helps school and district administrators and emergency management personnel create or revise their EOP without an Internet connection. This tool is based on the Federal six-step planning process and features the same content as the Web-accessible version, EOP ASSIST 2.0.
The EOP ASSIST Interactive Workbook, a blend of guidance and interactive forms, offers the following benefits:
Walks users through the six-step planning process;
Provides ample resources and examples;
Prompts users to enter plan information; and
Collects plan information in worksheets, which are easily converted into a comprehensive EOP.
Furthermore, both the worksheets and instructions are editable and customizable. This enables state education agencies and school districts to incorporate state and local requirements for EOPs before distributing the EOP ASSIST Interactive Workbook to their schools and/or districts. In turn, this will enable schools to develop high-quality EOPs that align with state and local requirements.
To download the EOP ASSIST Interactive Workbook or find more information on this tool, please visit http://rems.ed.gov/EOPASSISTInteractiveWorkbook.aspx.
---
Connect With the REMS TA Center Virtually and in Person!
Connect With Us Virtually Via…
Connect With Us in Person Via…
Local Events
Hosting a local conference or forum and seeking panelists or presenters? Email us at info@remstacenter.org with details about the event, including the date, time, target audience, and purpose.
Interested in hosting an on-site training by request? Visit our Trainings by Request page to submit an application: http://rems.ed.gov/TA_TrainingsByRequest.aspx.
National Events
Check out the information below to see which emergency management–related conferences we plan to attend this year. Do you see any that are also on your list of "must-attend" events? If so, please come find our booth at each conference to say hello and to share your #MyPreparednessPromise. You can also visit our site, follow us on Twitter, and/or join the Community of Practice to get up-to-date details on where we will be and when!

---
Quick Links