Extreme Heat Safety Preparedness

As we enjoy the summer and its warm temperatures, we are reminded of how vulnerable our community may be to any extreme heat it brings. Planning for extreme heat emergencies is crucial, as these incidents can take place quickly, with minimal indication or warning. The Federal Emergency Management Agency's Ready Campaign defines extreme heat as a 2- to 3-day span of excessive heat and humidity, with sustained temperatures above 90 degrees. Children, individuals with access and functional needs, and older adults are more vulnerable to illness induced by the extreme heat. As such, schools, school districts, and institutions of higher education (IHEs) have a key role in enhancing the preparedness capacity of the whole school/campus community, including students, staff, teachers, and faculty, for before, during, and after an extreme heat emergency.

School and IHE planning teams can help prepare for extreme heat by creating, revising, and continually enhancing an Extreme Heat Annex in their emergency operations plans (EOPs). Keep the following in mind as you consider the Extreme Heat Annex while reviewing the six-step planning process:
Forming a Team: Are athletic directors, sports coaches, and/or athletic trainers members of your team? Have you invited community partners, such as local health department officials and local public health officials, to join your team and engage in planning for extreme heat and other emergency events?
Conducting a Site Assessment: Have there been proper management and maintenance on facility air and cooling systems? Are there additional cooling equipment and fans if needed? Are there enough hydration stations to serve the facility's population? Are hydration stations set up strategically in locations with a higher need to promote proper hydration (entrances of the building, heavily traveled hallways, gym, and sports facilities)?
Conducting a Capacity Assessment: Does your education agency collect information on who has been trained on preventing, identifying, and treating individuals with heat-related illnesses? Does your school or IHE inventory medical equipment and supplies that can support heat-related illness treatment?
Developing an Annex: It may be necessary to limit both outdoor and physical activities in the case of extreme heat in the summer months, especially between the hours of 11:00 a.m. and 2:00 p.m. (the hottest part of the day). Do you have a plan in place for relocating your outdoor school activities/events if necessary? Do you have time limits/modifications for events that may be affected by the heat?
Hosting a Training: Do members of your school/campus community understand the difference between heat cramps, heat exhaustion, and heat stroke? Are they equipped with the knowledge and training to both recognize and respond to the warning signs of heat-related illness? Has your school/campus community been trained on the Extreme Heat Annex?
As you plan and prepare for extreme heat, be sure to access relevant resources from Federal agency partners via the REMS TA Center Website. The U.S. Department of Health and Human Services, Centers for Disease Control and Prevention maintains a Web page on Warning Signs and Symptoms of Heat-Related Illness and a virtual training on Recognizing, Preventing, and Treating Heat-Related Illness for coaches, athletic trainers, students, school nurses, parents, and teachers. Additionally, the U.S. Environmental Protection Agency published an Excessive Heat Events Guidebook for communities to use to assess their vulnerability to extreme heat events and develop notification and response programs. Consider spreading awareness of extreme heat emergencies and prevention strategies in your community by incorporating materials related to the #BeatTheHeat and #SummerSafety initiatives into your school safety outreach activities. The Ready Campaign's Extreme Heat Safety Social Media Toolkit offers a variety of downloadable resources, including graphics and safety/preparedness outreach materials, ready to be shared on social media channels to help you and your school community #BeatTheHeat!
Enhancing Your Security Annex With Crime Prevention Through Environmental Design (CPTED)

A Security Annex is one of the 10 federally recommended functional annexes of a high-quality EOP. It seeks to ensure the physical safety of the school building or campus and helps schools and IHEs plan for routine, ongoing implementation of measures to deter criminal threats from inside and outside a school or campus. Collaboration is a key aspect of the Security Annex; it is important to include law enforcement personnel and other community partners as you develop, review, and update your Security Annex.

Crime Prevention Through Environmental Design (CPTED) is a strategy that planning teams can use to help accomplish the goals and objectives of the K-12 Security Annex and IHE Security Annex. Implementation of CPTED can occur during the design of new buildings, retrofitting of existing facilities, while conducting site assessments, and while developing policies and procedures for school or IHE operations. The principles of CPTED include the following:
Natural surveillance: Arranging physical features to maximize visibility. For example, buildings and grounds are kept well lit.
Natural access control: Guiding people with signage, well-marked entrances and exits, and landscaping to help ensure that unauthorized persons do not have access.
Territoriality reinforcement: Clearly delineating space, expressing pride and ownership, and creating a welcoming environment through amenities like art or pavement designs.
Management and maintenance: Ensuring that building services function properly and safely and that the exterior is maintained and organized with landscaping. For example, grounds are free of litter and plantings are well maintained.
Target hardening: Securing buildings and grounds using deterrent devices, such as locks or security cameras.
As you choose to integrate some or all of these CPTED principles into your school or higher ed EOP to help secure your buildings and grounds, several resources may support your educational agency. The REMS TA Center Tool Box includes over a dozen practitioner-based resources related to security, many of which incorporate CPTED principles. The Biden-Harris Administration is increasing investments in community violence intervention (CVI) and is hosting a series of CVI Webinars to support practitioners. The first archived Webinar is "Community Violence Intervention (CVI) Webinar Series: Evidence-based Theory and Research on CVI." The REMS TA Center offers a host of partner resources on CPTED located on our Security topic-specific Web page. The REMS TA Center also offers a free SITE ASSESS mobile application to support practitioners in conducting site assessments of their buildings and grounds. CPTED concepts and principles are integrated throughout the app; learn how to use SITE ASSESS via a Specialized Training Package module or a Virtual Training by Request.
 Emergency Preparedness for K-12 Extracurricular Activities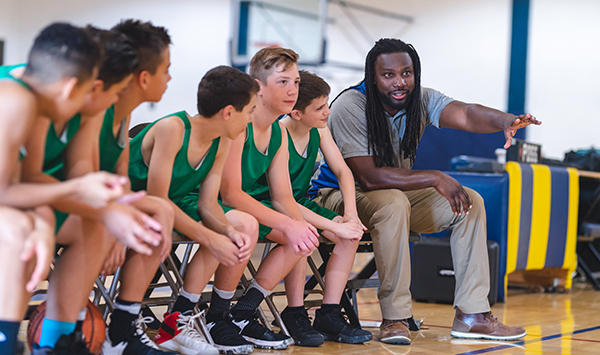 The primary feature of emergency incidents is their unpredictable nature. You never know when and where they will happen. An emergency can occur at any time before, during or after the school day, in a variety of settings. One of the federally recommended planning principles for developing a comprehensive school EOP is considering all settings and all times, which includes planning for after-school or out-of-school extracurricular activities such as sporting events, school concerts, student-focused clubs, and science fairs. When developing activities, programs, and services to address an emergency event during after-school hours, the planning team can progress through the six-step planning process, as follows.

Step 1: Form a Collaborative Planning Team. Membership of the EOP planning team should include representatives from extracurricular activities and after-hours staff (e.g., custodians, volunteers), so that their experience and expertise can help build the preparedness capacity and enhance the comprehensiveness of the school EOP. As the team determines a common framework, it may want to use the National Incident Management System (NIMS) and Incident Command System (ICS). As schools implement NIMS and ICS, they should consider assigning at least three personnel to each role so that the plan spans all settings and all times, including after-school hours.

Step 2: Understand the Situation. In this step, the planning team will identify and prioritize potential threats and hazards to the school and surrounding community. One source of information for this work is ongoing assessments, such as behavioral threat assessment, capacity assessment, site assessment, and culture and climate assessment. Staff who support the management of extracurricular activities should be involved in all assessments, as they will have key information to help ensure that a school EOP addresses all settings and all times. Site assessment teams may want to conduct at least a portion of their assessment during after-school hours so that they can examine the safety, security, accessibility, and emergency preparedness of their buildings and grounds in all settings and at all times.

Step 3: Determine Goals and Objectives. The goals and objectives crafted to respond to threats and hazards during the traditional school day may be customized for extracurricular activities. These activities may present unique considerations for the development of goals and objectives, including the likelihood of individuals who are not otherwise affiliated with the school to be the persons in charge (e.g., coaches, club staff, custodians, etc.) instead of teachers or administrators. These program staff may not have awareness of the potential for an emergency to happen, may not be familiar with school facilities and grounds, or may not be trained to respond appropriately should an emergency occur. Thus, goals and objectives should be framed to consider the differing conditions of after-school activities and make certain that staff responsible for carrying them out have a clear understanding of their roles and responsibilities in the event of an emergency.

Step 4: Plan Development (Identifying Courses of Action). Courses of action are protocols and procedures that address the who, what, when, where, why, and how for accomplishing each objective. For example, personnel should be preassigned to key areas of the building and be prepared to monitor their assigned section throughout the entire event. One strategy is for the planning team to use scenario-based planning where the team depicts the scenario outside of school hours (for example, a basketball game or extended student services after school), determines the amount of time available to respond, identifies decision points, and then develops courses of action.

Step 5: Plan Preparation, Review, and Approval. In Step 5, the planning team creates a draft EOP, circulates the draft to obtain feedback from those responsible for implementing the plan, makes edits based on those comments, and obtains approval from the appropriate leadership. Here, a planning team may format its Extracurricular Activities Annex.

Step 6: Plan Implementation and Maintenance. Once the plan is approved, copies of portions of the plan, including the Extracurricular Activities Annex, should be sent to the appropriate stakeholders. The team should share the plan with its community partners who have a responsibility in the plan and additional stakeholders that have a role in the plan, including relevant local, district, regional, and/or state agencies. The plan should also be shared with other organizations that may use the school building(s), including those staff who provided input for the Extracurricular Activities Annex and those who have a role and responsibility if an emergency takes place during an extracurricular activity. All parties involved in extracurricular activities, along with the school core planning team, should consider practicing the EOP during after-school hours to identify gaps and weaknesses. Planning teams should help ensure that the whole school community, including after-school program staff, is trained on procedures and resource development, and included in training and exercise programs so that all members of the community can implement the plan in an emergency event.
How Virtual Trainings by Request Can Support Your Professional Development

Professional development days are perfect opportunities for hosting a training for your school or school district. During these days, school staff and personnel devote time to increase their capacity in various topical areas. Why not dedicate a few hours of your professional development day to school safety, security, emergency management, and preparedness?

Taking a few hours in the morning or in the afternoon on a professional development day to participate in a subject matter expert-led virtual training can make a difference in your emergency management planning efforts. It can also help ensure that school personnel and staff are using the same common framework. The REMS TA Center's Virtual Trainings by Request program offers a variety of training topics that can be utilized to support your individual school or school district during your next upcoming professional development day.

Requesting a free virtual training of your choice is simple. Follow these three steps to request your free training today:
Confirm your training topic(s) and three preferred training dates.
Complete and submit the online training application to info@remstacenter.org.
Wait for review and approval from the U.S. Department of Education.
Virtual Networking Through the REMS TA Center Tool Box

As K-12 and IHE safety teams engage in emergency management planning, they may seek examples or other tools created by local or state practitioners. To support this need, the REMS TA Center maintains a Tool Box that serves as a national virtual library of tools developed by school and higher ed emergency managers in the field. Resources range in type from sample drills, tabletops, and other materials such as organizational charts, templates, and planning guidelines and cover a variety of topics. The REMS TA Center Tool Box allows for practitioners to collaborate and support one another through resource sharing. Access the Tool Box through the REMS TA Center Website, and search for resources by using keywords, a specific audience, language, topic, and file formats. Be sure to look at what resources could be helpful to your school/campus community!
Calling all emergency preparedness practitioners! Have you created tools, documents, templates, or presentations for your education agency to use in emergency management planning? The REMS TA Center Tool Box is a great place to share this information with others and create a hub of information for those just starting their emergency preparedness journey. Use the Tool Box Submission Form to submit your resource(s) for consideration. Please have your tool ready to be uploaded with a description and proper authorization to share the information. The REMS TA Center will vet all resources through a careful screening process that will include consideration of the source, type, content, and structure of materials, as well as whether duplicate materials already exist in the repository. Be the first in your community to share a resource with us and your peers today!

Follow our official @remstacenter Twitter page to receive news and updates on free trainings and resources for higher ed and school safety, security, emergency management, and preparedness. Our top tweet for the month of July focuses on recovery planning.