News & Updates from the REMS TA Center, Fall 2017

The severe weather events that we have experienced in our country throughout September—including hurricanes, flooding, tornadoes, and wildfires—emphasize the importance of emergency preparedness and the work that we all do to help education agencies plan for, respond to, and recover from natural hazards. As education agencies in affected areas work with their community partners on the local, state, and federal levels, we encourage you to keep in mind that the Readiness and Emergency Management for Schools (REMS) Technical Assistance (TA) Center and the U.S. Department of Education's (ED) Office of Safe and Healthy Students (OSHS) are here year-round to provide free technical assistance and training support in all aspects of school and higher ed preparedness and school safety, security, and emergency management programs. Natural hazards and adversarial- and human-caused threats reinforce the importance of information-sharing and collaboration. We remain inspired by our state partners in school and higher ed safety and emergency management in unaffected areas who we have witnessed reaching out to support first responders, long-term recovery staff, education agencies, and community members in affected areas.

Do you have insight or lessons learned to share from events that have impacted your school or campus community this month? Consider starting a forum on our Community of Practice (CoP). After signing in to the CoP, click K-12 Forums (if you represent the K-12 population) or institutions of higher education (IHE) Forums (if you represent the higher ed population) and then Add a Forum to start sharing.
Resources to Support Education Agencies With Recovery and Continuity of Operations and Learning Following Hurricanes Harvey and Irma
Has your education agency been affected by Hurricanes Harvey or Irma? In collaboration with other federal agencies such as the Federal Emergency Management Agency, ED's mission during this time is to ensure continuity of operations and learning via the provision of critical services to students, families, and educators and the restoration of the learning environment. To support this mission, ED has established a page to support you and your community partners with recovery and continuity activities.

For general hurricane support and for help with Hurricanes Harvey and Irma, visit: https://www.ed.gov/hurricane-help.

Does your education agency support international students? Share the following U.S. Department of Homeland Security page to support them in maintaining their student status during extended school closures: https://studyinthestates.dhs.gov/maintain-f-and-m-status-in-emergency-events.
Disasters Don't Plan Ahead, But Your Education Agency Can—This September During National Preparedness Month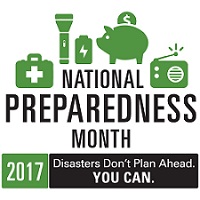 September is special not only because it marks the first full month of school for students and staff at K-12 schools and IHEs across the country, but also because it is the start of National Preparedness Month, a time school and campus communities join the nation in strengthening emergency preparedness efforts.

Every September, the Ready.Gov Website hosts the annual National Preparedness Month campaign, and the REMS TA Center, in collaboration with ED's OSHS, is excited to participate again this year! During the final weeks of this month, we encourage you to consider focusing on the following activities using the weekly themes created by the Ready.Gov team.

Week 3: September 17–23. Practice and Build Out Your Plans. The REMS TA Center provides a variety of resources to support schools and IHEs in practicing and building out their emergency operations plans (EOPs). This includes EOP Interactive Tools, a Tool Box of resources from emergency management practitioners in the field, specialized training packages, live trainings by request, and more. Spend time at the start of the school year browsing our site, including the NEW Topic-Specific Resources section that we have created to further support K-12 and higher ed education agencies with developing high-quality EOPs that are framed around an all-hazards approach to emergency preparedness.

Week 4: September 24–30. Get Involved! Be a Part of Something Larger. There are so many ways to participate in preparedness activities outside of your states and localities this year. The Ready.Gov Website provides several examples that your agencies can use to boost group and individual preparedness in your states and localities. ED and the REMS TA Center also offer various opportunities to join national conversations via the Webinars and Web Chats that we will be hosting between now and the end of September. We encourage you to join us and the nation in these opportunities, and to share details about others available through your agency using our 2017 PrepareathonForSchools Pledge Form for Education Agencies and the PrepareAthon site.
Register for Webinars and Web Chats the REMS TA Center Is Hosting During National Preparedness Month
During National Preparedness Month, the REMS TA Center is hosting various virtual events, including Webinars and Web Chats with key national and local partners in school and higher ed emergency management. We would love for you to join us! Find links to learn more about and to register for each event below.
A Recap of Our #PrepareathonForSchools Virtual Meeting and Twitter Chat Series

Since April, we have been working with ED's OSHS and our federal partners in emergency management in support of the national Prepareathon campaign by hosting monthly #PrepareathonForSchools Virtual Meetings and Twitter Chats. Through these events, we have collaborated with state and federal partners to discuss a variety of topics. In the list below, we have highlighted each topic and some of the lessons learned from each event.
Techniques to Involve Students and Staff in Preparedness | April 27
The importance of state, local, and federal partnerships was emphasized during this call. Representatives from the Corporation for National and Community Service highlighted key educational partnerships that are designed to help agencies engage their whole school community in preparedness activities. This includes educational partnerships with the private industry to develop teaching products and tools for use by youths before, during, and after school to teach emergency preparedness skills.

Maximizing Building Safety and Resilience | May 25
About one-third of the state participants in our virtual meeting on this topic reported that they or their education agencies have ever participated in activities to commemorate Building Safety Month, a public awareness campaign designed to help individuals, families, and agencies understand what it takes to design and maintain safe and sustainable structures. According to the International Code Council, 35 states made proclamations related to building safety. If your state participated in May, share details about activities you planned or hosted with us and the field via the Building Safety Month Activities post within the PrepareathonForSchools Resources forum in our CoP!

Preparing for All Hazards Using the PrepareAthon Campaign | June 29
Education agencies sometimes think they're more prepared than they are. It's useful to conduct assessments to gauge the true extent of preparedness. One school district reported that it provided a mock-up of a gas shut-off for staff to use when practicing the process to shut off utility systems. Having staff members practice with the mock-up showed them that it's easy to do, and served as a gateway to other preparedness activities. Whenever possible, it helps to connect preparedness to actual events, as this serves as a reminder for why preparedness activities are needed.

Engaging Family and Community in Back to School Preparedness | July 27
The families who make up your school community share one thing in common—your education and emergency management agencies serve their children. Part of engaging families in your community in preparedness involves taking time to understand how they are different. September is a good time to survey families to ensure they can access the safety and emergency management resources that you plan to share throughout the year. Along with getting details about what languages are used in households throughout the community, consider also surveying families about how they access information. Do they use the school Website, district social media account, printed materials mailed home, text messages, or other vehicles to access relevant safety information? Use the insight gained through these surveys to update your communications, warning, and family and community engagement protocols.

National Preparedness Month | August 31
Unless schools within a district have been faced with a recent emergency, it can be difficult to get the buy-in of district staff when creating, reviewing, and approving school EOPs. September is a great time to touch base and to emphasize the importance of preparedness year-round with key staff within your school district!

A Preview of Upcoming #REMSonTheRoad Events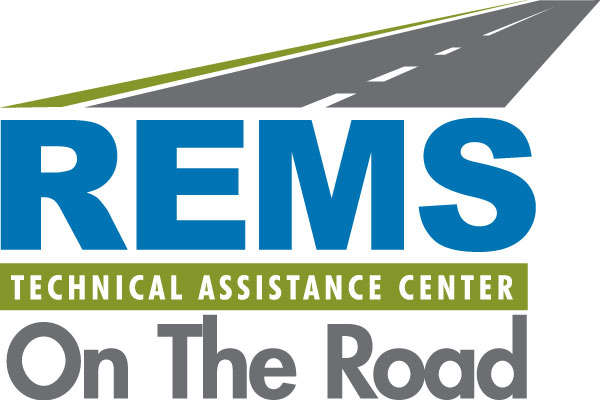 Is the REMS TA Center coming to a town near you? We are traveling to localities in California (Pasadena, Rancho Cucamonga, Redding, and Santa Rosa); Georgia; Indiana (Indianapolis, Jasper, and Terre Haute); Ohio; Pennsylvania; Texas; and Wisconsin to conduct live train-the-educator trainings on EOP development, earthquake preparedness, resilience strategies, and threat assessment.

Is your state or agency hosting a training? Share insight on the topic and/or training in general via the related #REMSonTheRoad forums on our CoP. Select K-12 Public Forums and then the appropriate training type (#REMSonTheRoad | Resilience Strategies, #REMSonTheRoad | K-12 101, #REMSonTheRoad | Threat Assessments, #REMSonTheRoad | Earthquake Preparedness). From there, search for your training date and begin posting! You can also share feedback via Twitter anytime using the #REMSontheRoad hashtag.

Interested in hosting a training between October 2017 and September 2018? Get one of our FREE trainings on your calendar for this academic year and next summer today!
Download the Host Site Application.
Fill out your contact details on page 1.
Select the trainings you're interested in on page 2.
We will review your request and respond within 1 business day to confirm receipt.

View a full list of the FREE trainings we offer via our Trainings by Request Web page.
Have a Question? Need a Resource? Seeking General Support? We're Here to Help!

Curious about a school or higher ed safety topic? Wondering how to approach planning for a unique threat or hazard at your site? Need resources to support your higher ed emergency preparedness efforts? No matter the question or need, the REMS TA Center is here to help. We are available Monday–Friday from 9:00 a.m. to 5:00 p.m. ET to provide informed answers and related resources in response to your individual and unique questions on a wide variety of topics related to school or higher ed safety, security, and emergency management and preparedness. Contact us via email, telephone, or our TA Request Form.
TA Center Interactive Tool Bar
If you have questions or need additional assistance, please contact the REMS TA Center at 1-855-781-REMS [7367] or via email at info@remstacenter.org.