A View From the Field—Perspectives From FEMA's PrepTalks on School Safety & The REMS TA Center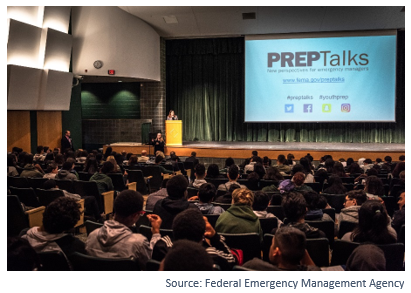 We value every chance to connect with key stakeholders in the fields of school and higher ed safety and emergency preparedness, including opportunities to interact during live events across the country. In May, we visited Long Branch High School in New Jersey for the Federal Emergency Management Agency's (FEMA) PrepTalks on School Safety and Youth Preparedness. The REMS TA Center provided opening remarks, along with FEMA's Director of Individual and Community Preparedness, the local superintendent, and representatives from the New Jersey Department of Education. National experts from Safe & Sound Schools, Save the Children, the Koshka Foundation, and the Natural Hazards Center also shared research, insight, and experiences related to ensuring safe and healthy schools and the role youth can play in preparedness. FEMA will be releasing videos and a discussion guide from the event in the coming weeks. Some of our key takeaways include the following:
When an emergency happens in a community, a large proportion of recovery efforts must be focused on providing and sustaining services for youth. As dependents, youth rely on adults to create and maintain structure and to ensure access to key services. This includes not only educational services, such as ensuring continuity of learning, but also providing childcare and meals, securing transportation and shelter, and other critical services. As one of the primary centers serving youth in local communities, schools are key recovery partners and are often the only provider of services for youth during and after community-wide emergencies. The REMS TA Center's May 31, 2018 Webinar highlights the role that schools can play in reunification, one aspect of recovery, after a community-wide disaster.

Youth can and want to play a hands-on role in emergency preparedness and school safety. Many of the questions that Long Branch High School students posed during the PrepTalks event focused on proactive steps they can take to keep their school safe. There are so many ways that schools, school districts, and institutions of higher education (IHEs) can engage and integrate youth into school and community preparedness and safety efforts, such as by encouraging them to join a Teen Community Emergency Response Team (CERT) at their school, on campus, or within their local community. Learn more about Teen CERT via our Webinar and check out the Youth Preparedness section of the Ready.gov site for details on programs, resources, and opportunities for youth to network and get involved in local, state, and national preparedness.

Parents, survivors, and members of the school and campus community are key players in preparedness, including prevention, protection, mitigation, response, and recovery. Stories and research shared by the speakers prove that progress has been made in the field of youth preparedness and school safety, and that more focus than ever is being placed on getting youth involved and on creating and cultivating safe environments for students to learn. Since 2012, FEMA has partnered with the U.S. Department of Education and other federal and national partners to introduce various programs to invigorate youth into action (see graphic to the left), and the Federal Commission on School Safety invited youth to speak during listening sessions held this year on school safety. Read an opinion piece written by our Project Director on how emergency preparedness can help create safe and resilient schools.

Are you hosting a local, state, or national event focused on school or campus safety and emergency preparedness? We'd love to attend or send materials for support! Email us at info@remstacenter.org to discuss details, or tweet the details using #SchoolSafetySelfie and tag the REMS TA Center on Twitter using @remstacenter.
Considering the Use of Metal Detectors in Schools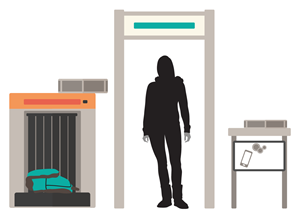 Metal detectors can be one component of a comprehensive school violence and safety program that works to prevent weapons from entering school buildings under the direction of law enforcement partners. Some education agencies use metal detectors regularly to inspect all students, while others use the technology for random inspections. According to the 2017 Indicators of School Crime and Safety, approximately 1.8% of public schools required students to pass through metal detectors daily and 4.5% used random metal detectors on students in the 2015-2016 school year. Research related to the effectiveness of metal detectors in reducing violence in schools is limited. One study, Impacts of Metal Detector Use in Schools: Insights From 15 Years of Research, reviewed 15 years of research. It concluded that there is insufficient data in the literature to determine whether the presence of metal detectors in schools reduces the risk of violent behavior among students, and some research suggests that the presence of metal detectors may detrimentally impact student perceptions of safety.
However, the effectiveness of metal detectors can be increased through programming that includes collaboration with community partners, ongoing data collection and analysis to inform continual improvement of processes, clear policies and procedures about use and privacy, appropriate and regular training of screening personnel, and clear expectations of student behavior at the school.

For many schools, the use of metal detectors is not feasible and is not considered an effective practice due to drawbacks, such as perceived negative effects to school climate. (For reference, see the National Association of School Psychologists' School Security Measures and Their Impact on Students Research Summaries). In addition to the presence of metal detectors possibly affecting student perceptions of safety, other downsides to using the technology include the associated installation and maintenance labor and costs; the staff and training needed to monitor and use the equipment; and the need for a private area to conduct more detailed examinations if alarms go off. Further difficulties can arise because of the time constraints of the typical or non-typical school day and the flow of people in and out of the building. These people can include large groups of students accessing the building after being dropped off by buses; classes or individual students entering the building during the school day, such as after field trips or appointments; and students, staff, and visitors entering the building after school hours for extracurricular activities.

A downside to using metal detectors in schools is that there is no proven effectiveness in reducing violence in schools. Planning teams may want to implement other resources, systems, and processes to reduce violence. One way to help increase school safety and security, and to nurture a supportive climate, is through the development of a comprehensive, all-hazards emergency operations plan (EOP). Get recommendations for how to create, review, or revise an EOP via the six-step planning process using the Guide for Developing High-Quality School Emergency Operations Plans (School Guide).
Answer the School and Campus Safety Questions of the Month on the Community of Practice (CoP)

Thank you to everyone who has responded to our School and Campus Safety Questions of the Month! We use your answers to glean perspectives from the field on key areas of interest in school and campus safety and emergency preparedness. Each month, the topical focus changes, often mirroring the focus of virtual events we are hosting, resources we are developing, and trends in the field. Log on to the CoP today to visit the K-12 Public Forums and IHE Public Forums, where the School and Campus Safety Questions of the Month forums are housed. View the questions posted since January below.
January:

What community partners would you turn to if you needed volunteers to support your school or campus during or after an emergency?

February:

What training do you provide to school bus drivers or campus shuttle bus drivers on responding to emergencies? Do you provide ongoing professional development opportunities for them to learn more about emerging safety, security, and emergency management issues?

March:

Does your school, school district, or campus receive funding from nongovernmental sources such as philanthropy, foundations, NGOs, and fundraising programs, to support safety and emergency management? What are your other sources of funding support for preparedness (e.g., training and exercises hosted by community partners)?

April:

What mass notification system does your agency use?

May:

What systems do your education agency use to ensure students are safely reunited with families during and after emergencies?

June:

How does your education agency use social media to inform or enhance situational awareness?
Not a member of the REMS TA Center's CoP? Join today! After answering the question of the month, introduce yourself to the community by visiting the Community Huddle section.
Upcoming and Archived Events
Upcoming Webinars and Web Chats

Emergency Evacuations: Planning for the Whole School Community Webinar | Wednesday, June 27, 2018. Presenters will discuss issues related to identifying on- and off-site assembly areas, transportation considerations, meeting the needs of students with disabilities or access and functional needs, and share lessons at the local level.
Understanding How the REMS TA Center Supports Institutions of Higher Education Webinar | Tuesday, July 10. Presenters will provide an overview of the services, resources, and support systems that the REMS TA Center creates and provides for IHEs. This Webinar will be a part of the National Center for Campus Public Safety's Campus Public Safety Online Webinar series.
World Day Against Human Trafficking Twitter Chat With UNICEF USA | Monday, July 30 (More details to come!). The REMS TA Center and UNICEF USA will host a Twitter chat with other key stakeholders involved in protecting children and youth from human trafficking to debunk myths and highlight the role of education agencies in prevention, response, and recovery.

Archived Webinars

Reunification After a Community-Wide Disaster: Planning Tools for Schools Webinar. Presenters discussed issues related to minors being separated from their parents or legal guardians after a large emergency or disaster; planning for reunification; and resources that schools, school districts, and their community partners can use to facilitate reunification.
Designing Safe Schools: Planning and Retrofitting for Safety in Education Facilities. Presenters shared knowledge about recommended safety considerations for the design and construction of new school buildings, as well as improvements to existing facilities. Participants were equipped to identify the most common construction and retrofits for school safety, discuss cost-effective options for improving safety and security in school buildings, recognize various types of site assessments, and act to resolve safety concerns in educational facilities.
Food Safety and Emergencies: Preparedness Activities for Schools Webinar. Presenters discussed how to protect the K-12 school community from intentional and accidental food-related threats and hazards; how the U.S. Department of Agriculture can support preparedness efforts; and action steps to take to be ready for an emergency or disaster, as well as response and recovery considerations.
Recent and Upcoming Meetings, Conferences, and Live + Virtual Trainings | #REMSonTheRoad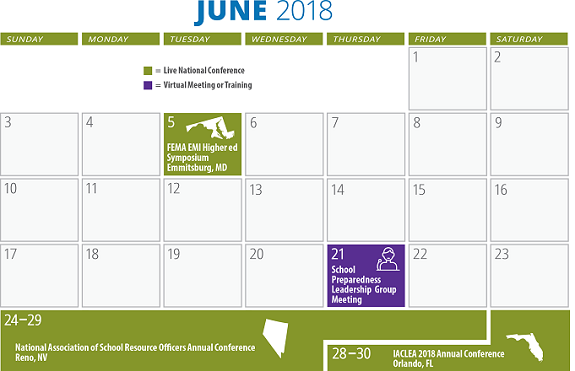 Since April, we have traveled to California, Delaware, Indiana, Illinois, and New York to conduct live train-the-educator and train-the-trainer trainings on emergency operations development, earthquake preparedness, resilience strategies, and threat assessment. We also visited Eugene, OR; Long Branch, NJ; and Emmitsburg, MD to engage, present, and distribute materials at national and local safety events including the 2018 National Disaster Resilient Universities Summit, FEMA PrepTalks on School Safety and Youth Preparedness, and FEMA's 20th Annual Emergency Management Higher Education Symposium. During each #REMSonTheRoad experience, we had the chance to meet school, school district, and higher ed administrators; school resource officers and security staff; emergency management professionals; school social workers and counselors; superintendents; researchers; professors; students; and others with a stake in school and higher ed safety and emergency management to learn about issues faced in preventing, responding to, and recovering from emergency events.

We look forward to our upcoming train-the-trainer and train-the-educator trainings on the topics of threat assessment and developing K-12 EOPs. Were you a training attendee? Share your experiences at any time with us via Twitter (use #REMSontheRoad) or our CoP (access the #REMSontheRoad Forums on the CoP).

Are you attending any of the national events highlighted on our June calendar? Stop by our booth to chat!
Rate SITE ASSESS, Our NEW Mobile Application for K-12 Schools and Districts
Are you using SITE ASSESS, our mobile application designed to support K-12 schools and school districts with conducting assessments of the safety and security of their buildings and grounds? Don't forget to rate the app in the Google Play and Apple App stores! If you don't think the app deserves a 5-star rating, send us an email to tell us why under the subject "Rating SITE ASSESS."

Have questions on SITE ASSESS? Post them to the Community of Practice forum we have created so that you can get support from us and others using the app. You can also email our technical assistance team at info@remstacenter.org. We welcome your feedback and ideas as we make upgrades too!

Have a Question? Need a Resource? Seeking Research Support? We're Here to Help!

Curious about a school safety topic? Wondering how to approach planning for a unique threat or hazard at your site? Need resources to support your higher ed emergency preparedness efforts? No matter the question or need, the REMS TA Center is here to help. We are available Monday—Friday from 9:00 a.m. to 5:00 p.m. EST to provide informed answers and related resources in response to your individual and unique questions on a wide variety of topics related to school safety, security, and emergency management and preparedness. Contact us via email, telephone, or our TA Request Form.

If you have any questions or need additional assistance, please contact the REMS TA Center at

1-855-781-REMS [7367] or

via email at info@remstacenter.org.