Topical Resource Feature
This section of our newsletter features resources relevant to seasonal trends, current events, and other timely topics in the field.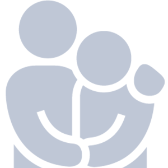 Happy New Year: Building Resilience Across the School District
As we start the new year, the U.S. Department of Education's (ED) Office of Safe and Supportive Schools (OSSS) and its Readiness and Emergency Management for Schools (REMS) Technical Assistance (TA) Center would like to take a moment to remind leaders within K-12 schools about the importance of building resilience amongst staff and students.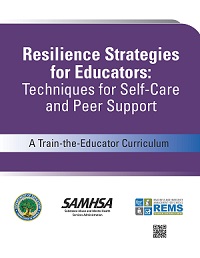 When emergencies take place within school districts and school buildings, it can have long-lasting affects. Exposure to others' distress can be challenging to educators and other school personnel, particularly if it is associated with their own experiences. Resilience is the process of adapting well in the face of adversity, trauma, tragedy, threats or significant sources of stress. It defines our ability to bounce back. There are many questions that school district leaders must ask as they work to provide a safe and supportive learning environment for students and staff. The REMS TA Center's live training, Resilience Strategies for Educators: Techniques for Self-Care and Peer Support, supports education agencies through that process. Grief, loss, and change from recurring disasters and their aftermath can leave school communities feeling anxious, confused, and insecure. As part of a comprehensive school emergency operations plan, it is important for schools and school districts to understand how to prevent, protect against, mitigate, respond to, and recover from critical incidents, including psychological recovery.
Visit our Training by Request page for details on how to host this FREE training at your school or school district. This 7-hour learning experience is designed for school district and school administrators, educators, counselors, school psychologists, school social workers, and support staff. Also applicable for local mental/behavioral health practitioners and other community partners.
Functional Resource Feature
This section of our newsletter features resources that can support education agencies and their community partners with efforts to strengthen emergency management functions and overall preparedness capacity.
Looking for sample tabletop exercises, job descriptions, checklists, or another resource developed by your peers in school and higher ed preparedness? The REMS TA Center maintains a virtual library of tools and resources developed by practitioners in the field, which we call our "Tool Box." The latest additions to the Tool Box include two tabletop exercises from Middlebury College on carbon monoxide exposure and measles, as well as Emergency Operations Center (EOC) job action sheets from California State University Monterey Bay.

As of this winter, the Tool Box also features a new search engine that makes it easier to filter and find resources according to audience type, topic area, file type, resource type, language, and terminology. Use our search feature to find more job action sheets, EOC resources, sample tabletops, and other resources for drills and exercises that are housed in our Tool Box. Have you created a tool that your colleagues could use too? We invite you to submit your tools for possible inclusion at any time.

Help Desk Request Snapshot
This section of our newsletter highlights a noteworthy topic among technical assistance inquiries received from the field during the last quarter.
A Focus on Trauma-Informed School Safety Drills
Establishing a trauma-informed approach to school safety drills creates a culture that understands the impact of trauma and recovery, recognizes the symptoms of trauma in students and other involved parties, and responds by integrating knowledge about trauma into policies, procedures and practices to avoid re-traumatization. When creating a trauma-informed approach, it is important to establish trustworthiness and transparency. The ability for parents, students and communities to trust those in powerful positions can be difficult — especially for those who have experienced interpersonal trauma. When schools are developing safety drills, they should provide rationales for what they are doing and why they do things in a particular way. It is important to provide empowerment, voice, and choice when establishing drills. Some key questions to consider include:
How are we engaging students, families, and staff members when developing school drills?
What role do they play in the development of emergency planning?
When schools incorporate drills that involve student participation into their safety plan, they can increase readiness and can improve a school's security posture. However, it's important to note that some of these drills may have adverse effects on students. If drills are not carried out responsibly, students may suffer trauma or re-traumatization as a result. By understanding trauma and its far-reaching implications, schools can develop safety drills that are developmentally appropriate and that reduce the likelihood of triggering or retraumatizing students who have experienced past trauma.

Additionally, we are excited to announce that we will be releasing a Trauma-Informed Drills Fact Sheet in the coming months. Please be on the lookout for communication from us regarding the release of this document!
#REMSontheRoad Spotlight
This section of our newsletter features details specific to the REMS TA Center Training by Request (TBR) and #REMSontheRoad Program.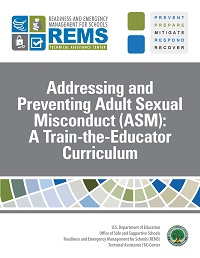 Live Trainings through our #REMSontheRoad Program
We are excited to announce the release of our newly developed training topic, Addressing and Preventing Adult Sexual Misconduct (ASM) . This training topic is a day-long learning opportunity for schools and school districts on creating comprehensive policies and procedures for preventing and addressing adult sexual misconduct in schools. We encourage school district and school administrators, educators, staff, legal counsel representatives, human resource directors, and members of an emergency operations plan planning team to attend this training. Request your free ASM training by visiting: https://rems.ed.gov/TA_TrainingsByRequest.aspx
Interested in where #REMSonTheRoad is headed next? Check out our travel schedule.

Download the REMS TA Center Trainings by Request: At a Glance document for more information on our training topics.

Curious about whether a training is already scheduled in your area? Check out upcoming TBRs we have scheduled across the country by accessing the #REMSontheRoad forums on the REMS TA Center Community of Practice (CoP). Also, if you are attending a training, you can add updates via the CoP. You can also share your experiences at any time with @remstacenter via Twitter using the #REMSontheRoad hashtag.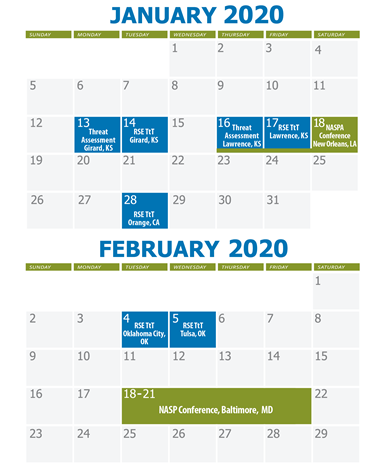 Virtual Networking Corner
This section of our newsletter features highlights from our interactions with the field via Twitter, the CoP, and other virtual events and networking platforms.
Upcoming and Archived Webinars and Web Chats
Stay tuned for our upcoming Webinar:
How Your National School Safety Center Serves K-12 Schools and School Districts
Join us on Tuesday, January 28, 2020, at 2:00 p.m. EST for a live Webinar to learn about how the REMS TA Center is the one-stop-shop for all public and nonpublic education agencies looking to enhance their school safety program and overall preparedness efforts. During this Webinar, participants will learn about all the free training, tools, and other resources that the REMS TA Center offers to K-12 schools and school districts on safety, security, and emergency management topics. This one-hour Webinar will feature a dedicated question and answer session during which REMS TA Center staff presenters will field questions from participants. The Webinar will be followed by a live Twitter Chat with the presenters, from 3:00 p.m. to 3:30 p.m. EST. Send us questions in advance by tagging @remstacenter on Twitter and using the hashtag #ChatWithREMS. Register here: http://remstacenter.org/webinars/WebinarRegistration.aspx?WebinarID=3105
Archived Webinars and Web Chats
Did you miss one of our recent Webinars? You can view these and past Webinars on our Website
New Resource Review: The Role of Districts in Supporting Schools in the Development of High-Quality Emergency Operations Plans
On Thursday, December 5, 2019, ED's OSSS and REMS TA Center hosted a Webinar to provide an overview of The Role of Districts in Supporting Schools in the Development of High-Quality Emergency Operations Plans (the District Guide). The District Guide serves as a companion to the Guide for Developing High-Quality School Emergency Operations Plans (School Guide) and provides information that can assist school districts in fulfilling both their individual and shared emergency planning responsibilities in all-hazards and all-threats school emergency operations plan development. Core planning teams within school districts can use this new resource to inform the development of local policies and procedures related to school emergency operations plan development. The Webinar included video features and highlights from representatives of ED's OSSS, the Bureau of Justice Assistance within the U.S. Department of Justice; Federal Emergency Management Agency within the U.S. Department of Homeland Security; and the U.S. Department of Health and Human Services. The presentation concluded with a Q&A session and was followed by a Web Chat. https://rems.ed.gov/webinarDetail?id=62

Managing Memorials and Anniversaries as a Part of Overall School and Higher Ed Safety Planning
On Friday, September 20, 2019, OSSS, formerly known as the Office of Safe and Healthy Students within ED, and its REMS TA Center hosted a Webinar to discuss the importance of creating a plan to manage memorials and anniversaries as a part of overall school and higher ed safety planning. Michele Gay of Safe & Sound Schools and Kristina Anderson of the Koshka Foundation joined the Webinar to discuss why schools should develop a trauma-informed approach to planning and to share lessons learned about memorializing anniversaries. ED and REMS TA Center staff discussed the importance of integrating plans to manage memorials and anniversaries into overall emergency operations plans, as well as provide information specific to managing donations and volunteers as a part of planning around this topic. The presentation concluded with a Question and Answer session and was followed by a Web Chat. https://rems.ed.gov/webinarDetail?id=58
Top @remstacenter Tweets for the Quarter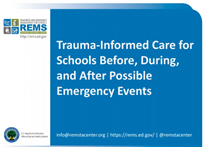 Are you on Twitter? Follow the REMS TA Center via @remstacenter, plus check out two of our top tweets for the past quarter, below.

#DYK students often turn to educators, counselors & leaders, including peers, within #schools for behavioral & mental health support? Learn common signs & symptoms of student trauma; ways to transform teaching & provide support before they ask! https://rems.ed.gov/webinarDetail?id=3 … pic.twitter.com/lOjlDBV3a0

Have you read our latest fact sheet? Read the Preparing for Floods at K-12 Schools and School Districts fact sheet here: https://rems.ed.gov/docs/K12FloodFactSheet_508C.pdf.

✓Be Aware ✓Be Prepared ✓Take Action

If you have any questions or need additional assistance, please contact the REMS TA Center at

1-855-781-REMS [7367] or

via email at info@remstacenter.org.