Updated Safety, Security, and Emergency Preparedness Applications
The REMS TA Center maintains a suite of EOP Interactive Tools to assist you with your safety, security, and emergency preparedness activities. These tools vary in format and support planning for a range of threats and hazards in the K-12 and higher education settings. We recently updated our two most popular tools, the SITE ASSESS mobile application (app) and the EOP ASSIST software app, with new features and upgraded technology compatibility. Read more about these free tools and how they have been enhanced for your use.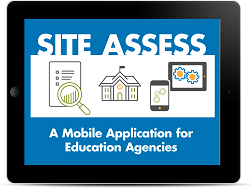 SITE ASSESS Mobile App
Looking to examine and enhance the safety, security, accessibility, and emergency preparedness of your buildings and grounds? SITE ASSESS is the perfect tool for you, teaching you about site assessments as you conduct one, as well as other important principles such as Crime Prevention Through Environmental Design and Universal Design. You can consider potential hazards and threats while collecting critical information and capturing images of your campus directly in the app. You can completely customize the assessment questions according to your site or local/state requirements. You can also select whether you are conducting a site assessment at a K-12 school or institution of higher education and are directed to the section that is optimized for that setting according to its unique characteristics.
The secure app generates a customized to-do list that may be used in the short term and long term to address facility improvements, prompts teams to share pertinent information with first responders, and contains relevant resources on education facility and preparedness topics. Data may be exported into a Word document for record keeping, reporting, or submission to leadership; or into an Excel worksheet for data aggregation and analysis across buildings and across time. The app also collects information that will aid institution of higher education personnel with fulfilling Jeanne Clery Disclosure of Campus Security Policy and Campus Crime Statistics Act requirements.
SITE ASSESS — which is available for FREE download from the Apple App and Google Play stores — was recently enhanced in the following ways:
Tagged site assessment questions according to hazards and threats and the ability to answer or delete questions according to hazard or threat type;

Redesigned Word document report that may be exported from the app and submitted directly to leadership and other school safety personnel;

New ability to toggle between questions according to topics/subtopics and hazards/threats; and

Design updates to the mobile app and its screens.

EOP ASSIST Software App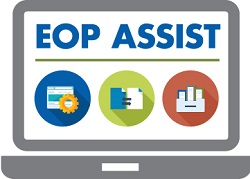 Need to develop or revise your Infectious Disease/Pandemic Annex and/or other sections of your school emergency operations plan (EOP)? Use EOP ASSIST, a plan generator tool that integrates the recommended six-step planning process to address operations before, during, and after a variety of hazards and threats. This software app is user friendly, collects information and provides resources along the way, and allows state and local education agencies to store and manage plans in one central location.

The EOP ASSIST software app must be installed on an education agency's or partner's server and requires an Internet connection. A school district can install/host the app for all schools within the district, or state/regional education agencies can install/host the app for all schools (public and nonpublic) and school districts within the state/region. Each user must have its own unique login credentials.

EOP ASSIST was recently enhanced in the following ways:
New forms to collect information on training activities that education agencies conduct;

Dynamic dashboard to display and aggregate training data;

Dynamic dashboard to display and aggregate drill and exercise data;

Updated instructions for district personnel on their role in school emergency operations planning based on the latest Federal guidance; and

Refreshed resource toolkit with guidance, resources, and examples for users to access at each step in the planning process.


Technical Support
The REMS TA Center provides free technical assistance for installing or using EOP ASSIST and SITE ASSESS. Contact the REMS TA Center Help Desk by email (info@remstacenter.org) or telephone (1-855-781-REMS [7367]) toll free. Our hours of operation are 9:00 a.m.-5:00 p.m. eastern time, Monday through Friday.
More EOP Interactive Tools
We offer a suite of emergency management planning tools that are intended to be used by K-12 and higher ed practitioners with any level of experience in emergency management. In addition to the software and mobile apps, there are a workbook and two Web apps. More information on these tools may be found in the EOP Interactive Tools Flyer and accessed below.

EOP ASSIST Interactive Workbook — Develop a school EOP using an offline and low-tech version of the plan generator tool (K-12 only). This tool is also available in Spanish.

EOP ASSESS Web App — Assess your understanding of fundamental concepts in emergency management planning on your computer (K-12 and higher ed).

EOP EVALUATE Web App — Evaluate your existing EOP against best practices in emergency management planning on your computer (K-12 and higher ed).


Creative Materials
Download our Web badges and email signature banners for our EOP Interactive Tools, Community of Practice, or Guides and link them back to the REMS TA Center Website. These creative materials are for your use — at an institution of higher education, K-12 school, school district, state education agency, regional education agency, partner organization, and Federal agency — to help spread the word about school safety, security, emergency management, and preparedness. When you do link to the REMS TA Center Website, please send an email to info@remstacenter.org to let us know.