Get Ready to ShakeOut and Practice Preparedness Plans on International ShakeOut Day
The U.S. Department of Education's Office of Safe and Supportive Schools and its Readiness and Emergency Management for Schools (REMS) Technical Assistance (TA) Center are proud to participate — along with the Federal Emergency Management Agency, U.S. Geological Survey, and our Federal family — in this year's International ShakeOut Day (Great ShakeOut). Join us and partners across the country on October 15, 2020 at 9:15 a.m. ET and also throughout the day as we Drop, Cover, and Hold On as a part of the global Great ShakeOut Earthquake Drill campaign.

We support the Great ShakeOut, which is an annual opportunity for people in homes, schools, campuses, and organizations to practice what to do during earthquakes and to improve preparedness. It encourages schools, school districts, state education agencies, institutions of higher education (IHEs), and community partners to learn what to do before, during, and after an earthquake and to practice the Drop, Cover, and Hold On technique every third Thursday of October.
Visit the ShakeOut Participation Dashboard to view participation rates among K-12 students in the Great ShakeOut Earthquake Drill, relative to the number of students enrolled in K-12 public schools.
From the coronavirus (COVID-19) pandemic to the recurring wildfires and hurricanes in the west and Midwest, more than anything, the year 2020 has highlighted the importance of school and campus safety planning and building relationships across the community to support emergency preparedness efforts. This year has also presented new challenges for education agencies and their community partners as they explore how to prepare for, respond to, and recover from nationwide and community-wide emergencies. These emergencies have also inspired new emergency preparedness and management solutions, including plans around how to practice emergency operations plans (EOPs) while protecting the health of the whole school and campus community. Exercises, including drills, play a key role in enhancing safety planning because they provide an opportunity for the whole school and campus community to practice and refine EOPs.

As agencies across the nation team up to reinforce earthquake preparedness, we are excited to join the Great ShakeOut team in sharing considerations specific to the pandemic. We know that COVID-19 presents new and additional factors that school and campus safety planning partners must integrate when planning in collaboration with education leaders and public health and emergency management partners. This includes how to maintain social distancing and protect the health of students, faculty, and staff while conducting exercises and drills. It is important for education agencies to explore how plans around exercises and drills can be adjusted, while still maintaining their integrity and purpose. Exercises and drills help education agencies illustrate and practice in a scenario-based setting how team roles and responsibilities, as well as the required emergency management functions (lockdown, evacuation, family reunification, etc.), will be carried out in the event of a real emergency.
NEW Great ShakeOut Resources

ShakeOut Drill Manual for K-12 Schools

2020 ShakeOut Drill Leader Guidance for Grades K-4

2020 ShakeOut Drill Leader Guidance for Grades 5-12

2020 ShakeOut Drill Leader Guidance for Higher Education

2020 ShakeOut Drill Leader Guidance for Organizations
Enhancing Earthquake Preparedness Exercises and Drills in the Face of the Pandemic
There are many techniques that education agency leaders and their partners can use as earthquake preparedness and other types of exercises and drills are updated and enhanced in the face of the pandemic. Along with viewing the NEW school and campus-specific resources created by the Great ShakeOut team (see text box to the right), we encourage planning partners to consider the recommendations below when exploring how to adjust exercises and drills.

Partner with the student and family engagement office.
It is important to partner with your school or campus student and family engagement office to get insight on how education agencies can share information with families and caregivers about protocol adjustments specific to conducting drills in the physical learning environment. Families and caregivers will have questions about how exercises and drills will be conducted while maintaining safety guidelines. Many of the safety drills and activities conducted in the school and campus setting can also be shared and practiced in the learning-at-home setting. Student and family engagement office staff can help school and campus safety planning teams consider how to integrate families utilizing hybrid or virtual learning environments in safety planning activities and efforts. For example, if a local school district decides to participate in the Great ShakeOut Earthquake Drill, school safety planning team members can create a virtual learning opportunity that allows students in the classroom and students learning at home with their families to schedule a time during which they all drop, cover, and hold on at a designated time as a part of an organized earthquake drill. As part of the drill, schools can practice their communications, accounting for all persons and reunification annexes.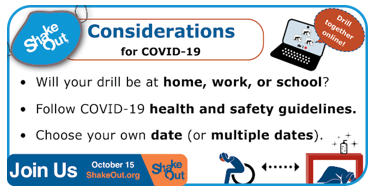 Create and take advantage of virtual drill and exercise models.
Virtual exercises and drills provide a flexible option for education agencies, as they can be utilized both in the physical learning setting and the virtual learning setting. For example, to maintain social distancing requirements in individual schools or campuses that may require students to remain in one classroom during the majority or the entire school day, leaders may opt to require teachers to "walk," or talk, students through a virtual simulation and then discuss roles and action steps within the classroom setting as a follow up. This same strategy could be used in an online learning setting, with follow-up discussions taking place via video learning sessions and/or assignments completed by students.
Conduct role-based and classroom-based exercises and drills.
Exercises and drills show how the varying roles and responsibilities of key stakeholders can work together to support prevention, protection, mitigation, response, and recovery in the event of an emergency. Drills can also provide opportunities for all key stakeholders to understand and practice their specific role within the EOP more clearly. Federal partners have various resources on youth preparedness that teachers can access and use in the classroom setting. The REMS TA Center also offers a variety of virtual training tools, including trainings by request, specialized training packages, online courses, and Webinars, that education agency leaders can use in the professional development setting.

ShakeOut Participation Checklist
Review the quick checklist below to support your education agency's participation in the Great ShakeOut. Get more tips on participating via the REMS TA Center's Great ShakeOut Web page.

During the ShakeOut
Practice the Earthquake Annex. By practicing the plan via drills, education agencies and their community partners can act more effectively during a real emergency event. Education agency emergency management planning teams can also identify gaps and weaknesses in the Earthquake Annex to strengthen it accordingly.

Drop, Cover, and Hold On. The Great ShakeOut provides information on how to Drop, Cover, and Hold On in order to reduce injury and death during earthquakes.

Document Your Earthquake Drill. Find documentation/observation forms from the REMS TA Center Tool Box. Use our new search feature and type in "Earthquake" or "Drill." The EOP ASSIST software application has a feature that allows K-12 schools and school districts to upload drill and other exercise information directly into the tool.

After the ShakeOut
Debrief and Write an After-Action Report. Read more information on the key components of after-action reports and lessons learned from school districts in the publication, After-Action Reports: Capturing Lessons Learned and Identifying Areas for Improvement. Download after-action report examples and resources from the REMS TA Center Tool Box, or submit your tools to share with your peers.

Review, Revise, and Maintain the Earthquake Annex. After a drill has taken place can be a great time to update the annex that was practiced, if not the entire EOP.

Engage in Earthquake Training Opportunities. Watch the archived Webinar, Integrating Earthquakes Into School Emergency Operations Plans, to learn about how to lessen the potential impact of an earthquake, encourage personal preparedness at home, and identify resource needs. Request to host a virtual or in-person Earthquake Preparedness for Schools Train-the-Educator for your agency via our Trainings by Request program.

Share Your Success. On social media, tag @remstacenter (Twitter), @ShakeOut (Twitter), and @GreatShakeOut (Instagram/Facebook) and use #SchoolSafetySelfie, #ShakeOut, and #SchoolSafetyAtHome. Share strategies and lessons learned with your peers via the Great ShakeOut Earthquake Drills forum on the REMS TA Center's Community of Practice Web page.

Conduct a Site Assessment. Use the REMS TA Center's free mobile application, SITE ASSESS, to examine the safety, security, accessibility, and emergency preparedness of your education agency's buildings and grounds. Once education agencies identify areas of improvement, they can retrofit their facilities and engage in mitigation using resources listed in the REMS TA Center's K-12 Site Assessment Resources and Institution of Higher Education (IHE) Site Assessment Resources.

Over 67 million participants were registered in the 2019 Great ShakeOut, including more than 31 million K-12 schools and school districts and 3.9 million colleges and universities. Will you and your education agency participate this year? Need support with registering? Email info@remstacenter.org for support and to be connected with our Great ShakeOut partners. Also, stay tuned for a soon-to-be-released REMS TA Center fact sheet on the topic of conducting exercises and drills during the pandemic, in which we review state and local challenges, models, and solutions, as well as offer recommendations for K-12 education agencies to consider as they revise enhance efforts to practice the plan.