Federal Partners Release a NEW Guide on the Role of Districts in Developing High-Quality School Emergency Operations Plans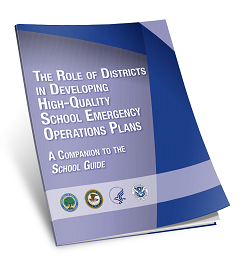 The Readiness and Emergency Management for Schools (REMS) Technical Assistance (TA) Center is pleased to offer a NEW guide to support administrators, educators and planning teams at schools and school districts in developing high-quality school emergency operations plans (EOPs). Core planning teams within school districts can use this guide to inform the development of local policies and procedures related to school EOP development. To further support the EOP development process for schools and districts, ED's Office of Safe and Supportive Schools (OSSS), with representatives from the U.S. Department of Health and Human Services, U.S. Department of Homeland Security, and the U.S. Department of Justice created The Role of Districts in Developing High-Quality School Emergency Operations Plans: A Companion to the School Guide (the District Guide). The District Guide serves as a complement to the Guide for Developing High-Quality School Emergency Operations Plans (School Guide) and provides information that can assist school districts in fulfilling both their individual and shared emergency planning responsibilities in all-hazards school EOP development.

Specifically, the District Guide complements the earlier School Guide by recommending specific roles and responsibilities for district-level administrators and staffs. Districts' responsibilities include the following:
Coordinating with schools and community partners to make EOPs a collaborative effort and help ensure integration with district, local, or regional, state, tribal, and federal agency EOPs
Laying out planning parameters for use by schools throughout the entire district
Supporting schools at each step as they develop EOPs that address all types of emergencies and are tailored to fit each school's individual needs
It also contains a checklist of activities and responsibilities for districts that allows them to stay on course and track their progress.

Visit our Website to access the full District Guide. In the coming weeks, we will be releasing the following supplementary materials created to support use and implementation of guide recommendations:
District Guide Fact Sheet. Access this fact sheet to get background information on threats and hazards facing school districts and how they prepare for, respond to, and recover from associated emergencies. In addition, use it to get an overview of the District Guide format, including an outline of the district core planning team's role in school EOP development.
District Guide Specialized Training Package. Use this self-paced training to review how to use the District Guide with core planning teams at your school district. It provides a walkthrough of the guide, and offers recommended exercises that team can use to enhance district emergency management planning.
District Guide Live Training by Request. Submit an application to host a LIVE and free training on how to use the District Guide at your school or school district location. The REMS TA Center will provide trainers and access to materials for the event. Host sites will support event marketing and provide a location and audience for the event.
We also encourage you to stay tuned for a Webinar we will host in October to showcase the guide in collaboration with Federal partners.