New Fact Sheet Series on Flood Preparedness
Ninety-eight percent of counties in the United States have been impacted by a flooding event, according to the Federal Emergency Management Agency's (FEMA) Historical Flood Risk and Costs. In 2018, there were 19 flood incidents across 12 states and 2 Tribal nations that were declared major disasters and so far in 2019, there have been 21 flood incidents across 18 states and 2 Tribal nations that were declared major disasters, according to FEMA's Disaster Declarations. Flooding can result from a myriad of weather events and conditions—heavy rain, storm surges in coastal areas, rapid melting of heavy snow, tsunamis, hurricanes, typhoons, tropical cyclones, and dam failure—and can affect entire communities, including public and nonpublic schools, school districts, and institutions of higher education (IHEs). To help education agencies plan and prepare for floods, the REMS TA Center has released a NEW fact sheet series on flooding that is customized for K-12, higher ed, and state education agency populations.
These fact sheets:
Describe how to incorporate flooding in emergency management planning and the six-step planning process;
Provide flood-related preparedness activities for education agencies before, during, and after a flood emergency; and
List key resources to support flood planning efforts.
To complement these fact sheets, the REMS TA Center also released Resources on Preparing for Floods at Education Agencies. This resource list provides a more extensive list of resources that support planning. Resources are grouped according to the area of flood planning that they serve: flood annex development, data sources for floods, flood mitigation, flood alerts/communications/warnings/notifications, creating a culture of flood preparedness, physical and structural recovery from floods, and general flood safety.
Additional Flood Resources
For lessons learned from a nonpublic school along the Red River during the floods of 1997 and 2009, read Recurring Flooding at Oak Grove Lutheran School in Fargo, North Dakota. More information on planning for floods and other natural hazards is available on the REMS TA Center's topic-specific Web page: Planning for Natural Hazards That May Impact Students, Staff, and Visitors.

More Fact Sheets
Over the past 3 years, the REMS TA Center has released fact sheets on the topics outlined below. We encourage you to download, post to your agency Websites, and to share with colleagues. Are there additional topics you would like to see covered? Send a note to info@remstacenter.org.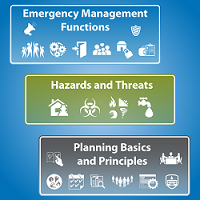 Our Topic-Specific Resources section and Publications page feature these fact sheets, as well as other resources and tools that can support emergency preparedness planning specific to natural hazards, as well as biological hazards, technological hazards, and adversarial- and human-caused threats. Resources and tools featured on our site are developed by the U.S. Department of Education's Office of Safe and Supportive Schools and its REMS TA Center, as well as other Federal and national partners who support education agencies and their partners with school safety and emergency management.