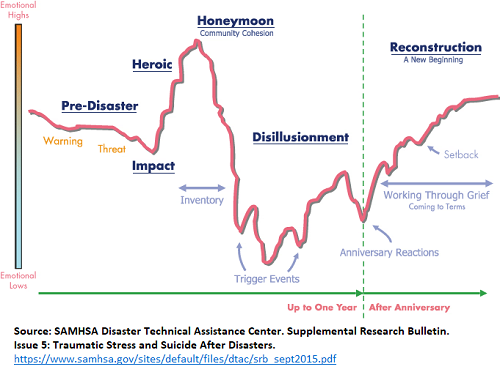 Happy New Year! It's a tradition to greet friends, family members, colleagues, and passersby by saying those three words at the start of each year. But the reality is that it's not a happy season for all individuals and families, especially those recovering from recent natural disasters and/or those who recently experienced the loss of a loved one. Survivors of Hurricanes Maria, Harvey, and Irma, and the recent wildfires across the West and Midwest may be getting ready to experience what researchers refer to as the disillusionment phase in their psychological response to disasters. During this phase, which is marked as specifically between 5 months to 1 year following a disaster, there can be increases in suicidal ideation and plans, along with signs of post-traumatic stress disorder (PTSD). It is important to let those who are in despair know that there is support available on the local, state, and federal levels.

Share the following details about the national Disaster Distress Hotline in your upcoming announcements and podcasts, with school/campus library systems, and on social media to support those in recovery and those experiencing suicidal thoughts and PTSD.
Call 1-800-985-5990 or text TalkWithUs to 66746 to connect with a trained crisis counselor.


Deaf/Hard of Hearing | Text TalkWithUs to 66746 or use your preferred relay service to call the Disaster Distress Helpline at 1-800-985-5990.

Spanish Speakers | Call 1-800-985-5990 and press "2." From the United States, text Hablanos to 66746. From Puerto Rico or the U.S. Virgin Islands, text Hablanos to 1-212-461-4635. From American Samoa, Guam, Palau, Marshall Islands, Northern Mariana Islands, and the Federated States of Micronesia, text Hablanos to 1-206-430-1097.
Register for Upcoming Webinar on Managing Donations and Volunteers Before, During, and After Emergencies

On Friday, January 19, 2018, from 2:00 p.m. to 3:00 p.m. ET, the Office of Safe and Healthy Students (OSHS) within the U.S. Department of Education and its REMS TA Center will host a Webinar on the topic of managing donations and volunteers before, during, and after emergency events that impact public and nonpublic school district, school, and campus communities. The Webinar will provide an overview of key concepts and considerations related to integrating donation and volunteer management into school and higher ed emergency operations plans. Madeline Sullivan, Management and Program Analyst at OSHS; Don Bonchak, Donations Specialist within the Federal Emergency Management Agency's Voluntary Agency Coordination Group; C.J. Huff, Former Superintendent of Joplin Schools; and Janelle Williams Hughes, the REMS TA Center's Director of Communication, will describe operational considerations for managing donations and volunteers from the federal and local perspectives and will share lessons learned from Hurricanes Harvey and Irma, and the 2011 tornado that impacted the Joplin School District. To join the meeting, register here: http://remstacenter.org/webinars/WebinarRegistration.aspx?WebinarID=1087.